Seals are a kind of marine mammal that have fins and are friendly carnivores who stay in the wild as well as can be kept in zoos and animal reserves. They look adorable with their cute physical attributes and funny activities.
Most children learn about seals from books, television shows, zoo visits, or cartoons. These mammals have a body structure like a fish with fins and a tail. They have whiskers like dogs and a snout as well. You can see many animated seal characters in cartoon shows and OTT platforms.
If you want to draw a Seal, you can follow the below-listed set of instructions that elaborates the drawing process in 6 simple steps. This guide has a part-by-part descriptive narration of every step, including a slow and steady division of the drawing process to help beginners and children understand every part with clarity.
Alongside the textual instructions, this guide provides you with clear illustrations as reference pictures for each step. You have to follow them in their respective orders to accurately draw a Seal.
How To Draw A Seal: Easy Step By Step Instructions
Before you begin, make sure you have arranged all the required art supplies with you to continue with the process without interruptions. You can see the below-listed items to check if you have every needed item with you.
A pencil
A sharpener (if needed)
A compass (if needed)
An eraser
A white paper or drawing book
A black pen
Colors ( pastels, crayons or pencils)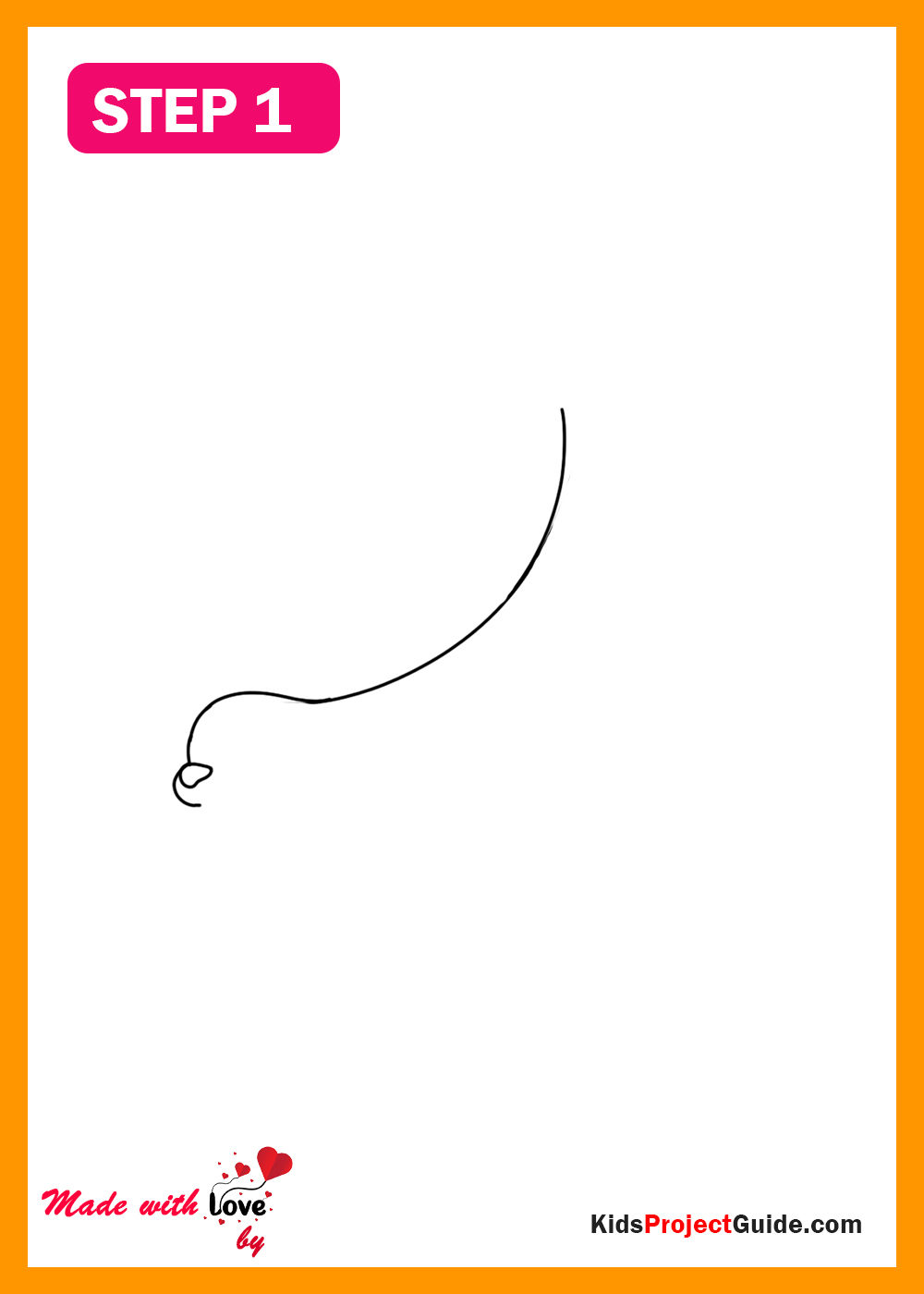 Step 1:
Form a curve using your freehand skills, or use a compass if you want. Add another smaller curve with an opposite bulge on one end. Make a small half circle at its ending point and try to draw a vague and curved triangle. Take reference from the above picture if you need it.
Step 2:
Add more curves and wavy lines along the bottom of the previously made structure. Draw some curvy strokes to add details to the Seal's body. Use the trial and error method to get a satisfactory outcome.
Step 3:
Extend the lower curve's top end towards the end of the previous curvy line ands try to form a tail-like structure. You can erase your mistakes and redraw to get better results. Keep the initial lines lighter using soft pencil strokes and map the final outline along it using bolder lines.
Draw the fins using curves and inclined, uneven U shapes and join it to the body structure of the Seal. Then you can add a wavy, zig-zag line with uneven curves right below the top outline to add further details to the Seal's skin, creating its unique texture.
Step 4:
Using similar ways, draw another fin on the other side of the Seal's body and try to maintain its proportions in size and shape to the previously drawn fin. You have to repeat the previous instructions and use different U shapes in order to create the fin outline.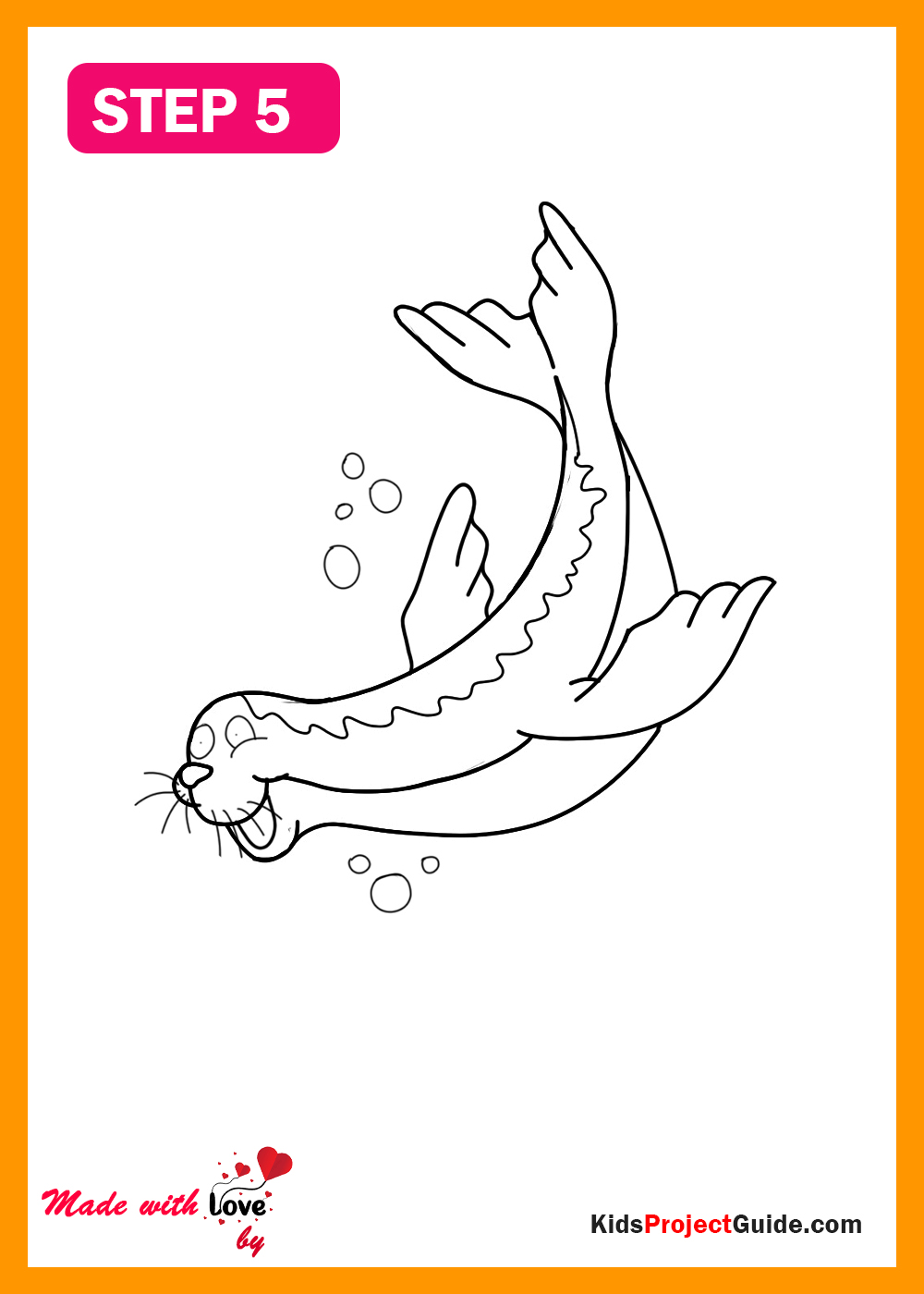 Step 5:
Add some circles in different, small sizes around the seal outline to resemble water bubbles. Try to draw two oval shapes inside the Seal's face to form its eyes. Add the whiskers using small and subtle curves on both side of the snout structure.
Once you have followed the steps accurately, you shall be able to visualize you Seal drawing upon completing this step. You need to simply color your drawing now to make the Seal come alive.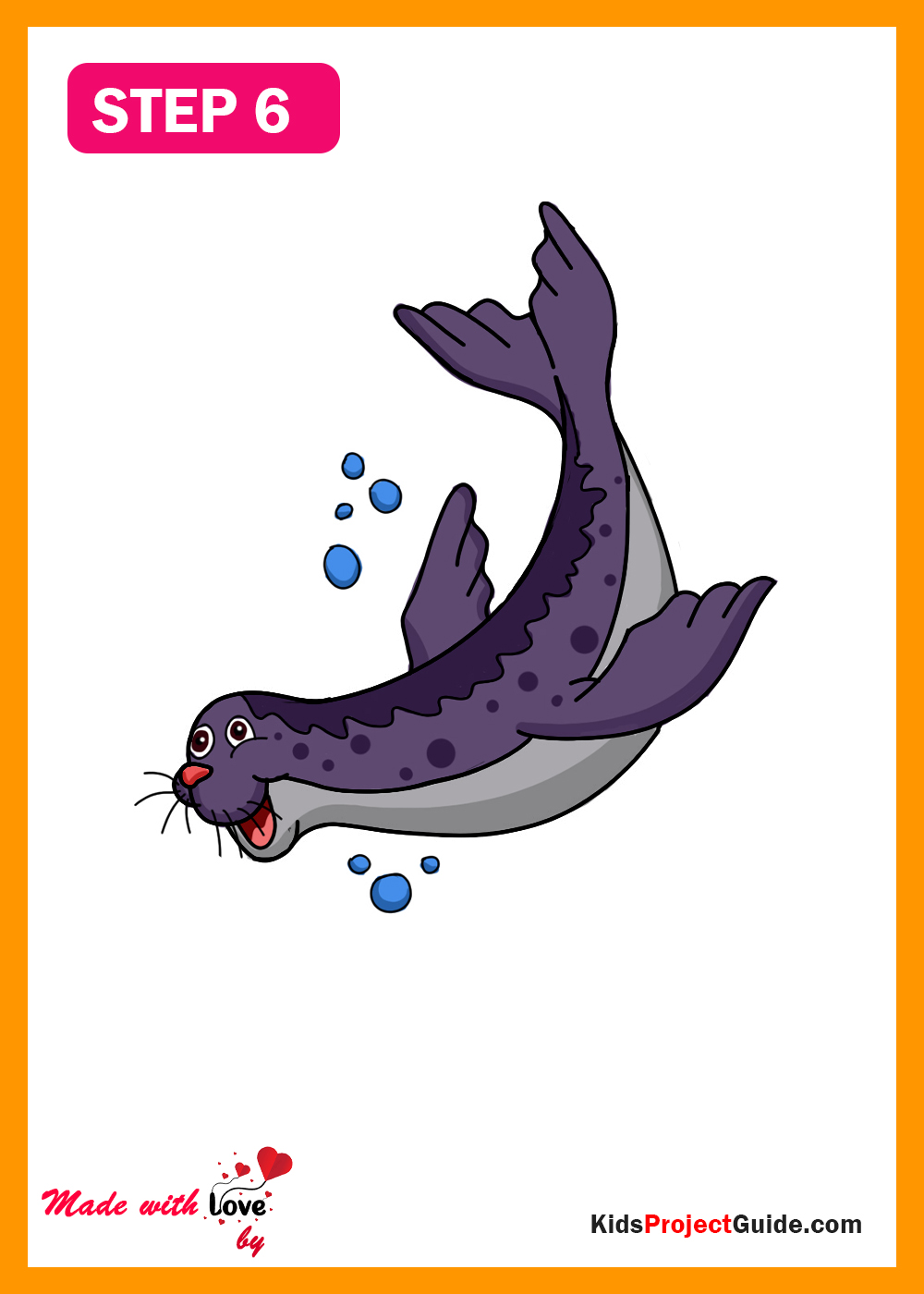 Step 6:
Color your Seal drawing using darker tones like black, brown, grey, purple or ash. Keep the color for the belly of the seal lighter the body tone. Make the upper texture even darker than the body color, using the same hue in a darker shade.
Color the mouth and the snout of the Seal using shades of pink or red. Use any tone of the blue color for the tiny water bubbles. You can add a shadow effect using a darker shade along the edges to make the drawing look three-dimensional, thus adding a tad bit of realism to it.
How To Draw A Seal Coloring Page

You can draw a Seal using the above-listed instructions, all you need to do is to follow them as per their order and take reference from the pictures provided along each step. The guide helps you to learn how to draw a Seal using a few easy and simple steps that can be understood with clarity and is suitable for people from any age group.